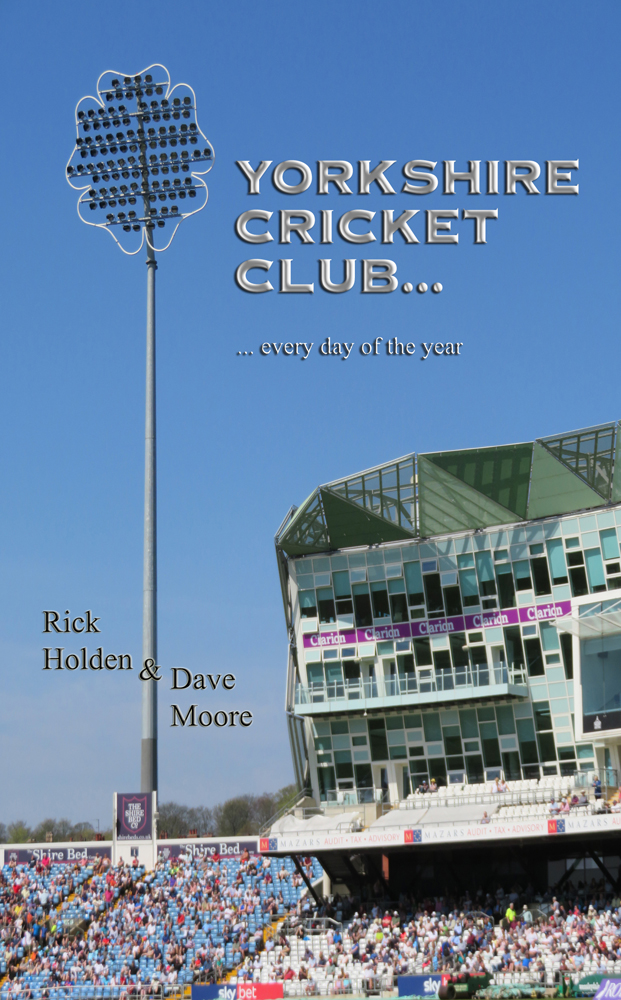 Yorkshire Cricket Club: Every Day of the Year
Authors: Rick Holden & Dave Moore
Format: Softback
Price: £10
Publication date: June 2022
ISBN: 978-1-987860-29-0
Pages: 200
Description: Who developed the 'chinaman?' Who was the original 'sledger?' What was a 'Clown Cricketer' and why was he so named? Which Yorkshire player was Winston Churchill's fag? Why was the World famous polymath, Professor Lewis Fry Richardson, included in this book? If you don't know the answers to questions like this, then look within. Yorkshire Cricket Club... Every Day Of The Year takes the reader on a journey through the club's history. It captures the drama from the club's early days to the glory eras, the years when Yorkshire were on top of the world with performances which helped them to clinch 33 County Championships.
With individual entries for every day of the year, plus multiple listings for busier times, it includes all the big matches, championship titles, promotions, relegations and limited over successes. It also gives details of Yorkshire players who also represented England with some good, and some not so good, stories to titillate the reader.
Biography: Dave Moore is the author of "Oldham Athletic: On This Day," "Oldham Athletic: Miscellany," "Out of Our League: Defunct and ex-Football League Teams - Volume One," and "Out of Our League: Defunct and ex-Football League Teams - Volume Two." Rick Holden, ex-Premier League footballer of Oldham Athletic and Manchester City fame and author of "Football: It's a Minging Life," "Barnsley FC: Into The Championship," and "Mankind: Victim of Evolution."
The two have co-written "Lancashire Cricket Club: Every Day of the Year," 101 Things That Get Our Goat About Football and "14 Great Games: Oldham Athletic." This is their fourth joint venture and the book a must read for every lover of the game of cricket. It is written in an easy-to-read style that should appeal to Yorkshire CCC followers of all ages.