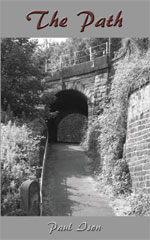 The Path
Author: Paul Ison
Format: Softback
Price: £9.99
Publication date: 1st September 2012
ISBN: 978-0-9867899-5-3
Pages: 370
Description: Colin Hunter was a freelance journalist who acquired the diaries of two serial killers. He deduced that both were very similar characters who were described as harmless, lovely men. Their common link was that they both stumbled upon paths and met an evil manipulating character from the 1700s. Simultaneously in London there was a new serial killer on the loose. Hunter and his girlfriend Ellie visited the sites of the unknown paths and took photos but what were the unexplained phenomena which had mysteriously appeared?
Detective Inspector Alex Blain was having a nightmare with the London killer. Charlotte Howsley, Blainís assistant, told him about the revelations regarding the path and, although unorthodox, it left him no option but to try to follow them up. Hunterís girlfriend Ellie was also helping him after hearing about his interviews with Wilson that revealed things about the London disappearances. Where did the body part, a vital clue, appear from?
The police were closing in but would this make him panic and kill again? Would Sergeant Howsley make it in time to save the lives of the women who were still missing? Would Blain be able to keep his investigation methods a secret? Later, Colin was out walking on a path in London and was talking to a shadowy figure in eerie silence - who could it be?
Biography: This is Paul Ison's second novel and a follow up to the well received 'A Crooked Sign on Albion Street,' a murder mystery about a young man with the gift of second sight. Paul was born in Loughborough. A graduate of the Open University, he maintained an interest in writing and part of his career was the time he spent in Whitehall where he drafted and edited letters for, amongst others, a Prime Minister.