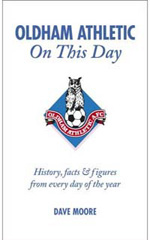 Oldham Athletic: On This Day
Author: Dave Moore
Format: Hardback
Price: £9.99
Publication year: 2008
ISBN: 9781905411290
Pages: 192
Description:
Oldham Athletic: On This Day
is written by respected Oldham Athletic historian Dave Moore. The book is 192 pages long and tells the story of the Latics' long and eventful history. With individual diary entries for every day of the year, plus multiple listings on busier dates, it is full of Boundary Park heroes (and villains) and tells the tales of the matches and the characters, the promotions and relegations – indeed, all the events, however big or small, that have helped make Oldham Athletic the club it is today.
This book will be personally signed by the author with your own inscription. Copies are also available signed by ex-Oldham Athletic players. Please e-mail for details.
Biography: Dave Moore was born in Oldham and his family emigrated to Canada before returning to the town when he was still a young boy. He was educated in Oldham and he went on to serve an apprenticeship in carpentry and joinery, before eventually opening his own building company. As a mature student, he attended Manchester University at De La Salle College where he studied Design and Technology. He attained a Bachelor of Education degree and took up a teaching career in Tameside which he then continued in Canada. Dave saw his first game at Boundary Park in the 1959-60 season and has been hooked ever since. The home games he missed until his second emigration to Canada in 1990 could be counted on one hand, with the exception of a year working away on a teacher exchange. Dave has set up a Latics Supporters Club in British Columbia, runs two Oldham Athletic websites, and now returns at least once every season to see Oldham play. His most memorable games seen have both been record breakers, the 11-0 Boxing Day victory over Southport in 1962 and the 6-0 League Cup semi-final thrashing of West Ham in 1990. Dave's dedication to the team was proved when he flew back to England within two weeks of landing in Canada to watch their first ever appearance at Wembley in the Littlewoods Cup Final. A self-confessed soccer fanatic, Dave still dons his boots when he turns out every week for Surrey Classics FC, the Canadian team he now manages.
Reviews:
"An original way of dealing with football history and anecdotal stories. It certainly brought the memories flooding back in sound-bites which to players and fans alike is how we best remember our football stories." - Rick Holden, Oldham Athletic 1989-92 & 1993-5
"There are a number of Oldham Athletic books on the market. I've read them all... trust me this is one of the best." - Gordon Lawton, Oldham Athletic Programme Editor