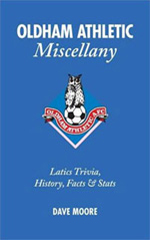 Oldham Athletic: Miscellany
Author: Dave Moore
Format: Hardback
Price: £9.99
Publication year: 2009
ISBN: 9781905411399
Pages: 160
Description:
Oldham Athletic: Miscellany
Remember who scored six goals for the club and had to wait until almost midnight for the manager's thanks? What was actress Dora Bryan's relationship with Athletic? Which manager won promotion for the Latics and then got immediately fired? Or the Chairman who called the Latics faithful "The lambs of Sheepfoot Lane?" How about the former Latics player who was inspired by Brian Clough or the player who was wrongly reported dead. Who always wore his socks inside-out? Which man-of-the-match was described by the manager as rubbish? Who scored the most important Oldham penalty ever? Which twins played in the same team? Do you know the 'Meat Pie Fred' song? Why did some players get fined a week's wages?
All are found in the pages of 'Oldham Athletic: Miscellany', a collection of stories from the club's 113-year history put together by lifelong fan and respected Latics historian Dave Moore. This is his second book about the club following the publication of 'Oldham Athletic: On This Day' and is a treasure trove of the weird and the wonderful that should put a smile on the face of Latics' fans everywhere. Athletic legends Roger Palmer, Eric Gemmell, Jimmy Frizzell, George Hardwick, Jack Rowley, Joe Royle, Bobby Johnstone, John Sheridan, Ian Wood, Denis Irwin and Bert Lister are all in 'Oldham Athletic: Miscellany' along with anecdotes about the club's forgotten heroes and villains. There are also reports of historic Athletic matches and all are written in an easy-to-read style that should appeal to Oldham supporters of all ages. This book will be personally signed by the author with your own inscription. Copies are also available signed by ex-Oldham Athletic players. Please e-mail for details.
Biography: Dave Moore was born in Oldham and his love affair with Oldham Athletic began in the 1959/60 season when he used to alternate between watching the home games of Athletic and Oldham Rugby. His boyhood hero was the late Bobby Johnstone with whom he eventually got acquainted while he was working at Hollinwood Cricket and Bowling Club where Bobby was a crown green bowler. Upon completion of his secondary schooling, Dave served an apprenticeship in carpentry and joinery, before opening his own building company. He later attended De La Salle College where he studied Design and Technology and attained a Bachelor of Education degree from the University of Manchester which led him into a teaching career, firstly in Tameside and eventually in Canada when he emigrated there. Dave missed his football in Canada and set up a Canadian branch of Latics supporters in addition to regularly updating two Oldham Athletic websites and playing amateur soccer. Dave has made regular trips from Canada back to Oldham to watch the team play and he is currently planning for his retirement when he hopes to spend time on both sides of the Atlantic Ocean thereby giving him more opportunities to keep a closer watch on events at Boundary Park.
Reviews:
"An inspirational portray of some of the most pinnacle moments in the history of the club that touched my heart during the thirteen years I was fortunate enough to play the glorious game." - Dick Mulvaney Oldham Athletic 1971-74
"An awesome way to re-live some great times and moments of a great football club! An honour to be part of such a excellent read!" - Carlo Corazzin, Oldham Athletic 2000-03