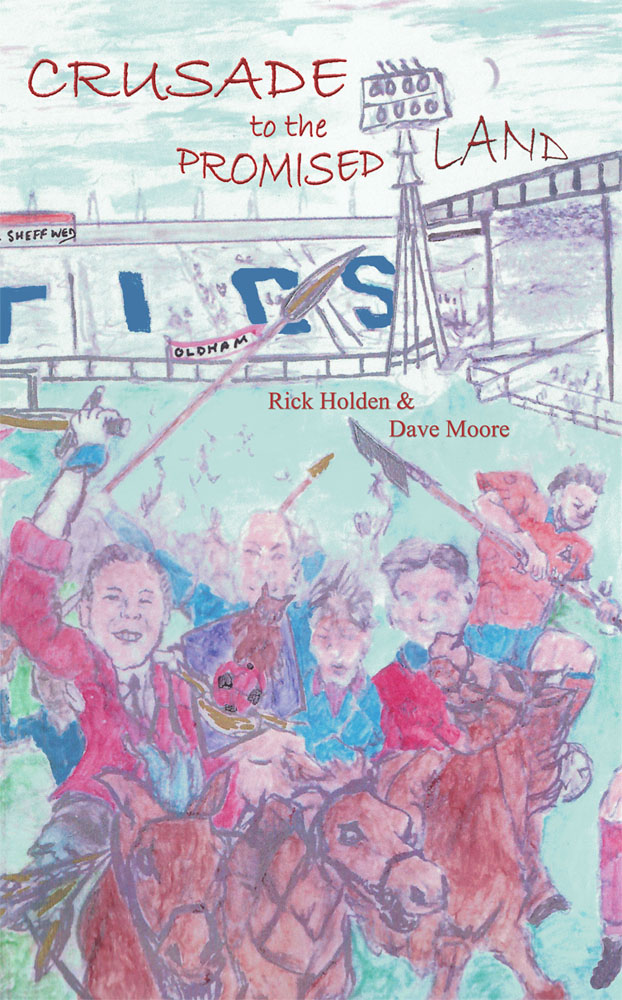 Crusade to the Promised Land
Authors: Rick Holden & Dave Moore
Format: Softback
Price: £12
Publication Date: August 2022
ISBN: 978-1-987860-50-4
Pages: 204
Posters: An accompanying limited edition of 200 full colour posters (approx. 500mm x 386mm) is available, signed by both authors. As the book cover wraps around the front and back, and is very 'busy,' the poster gives an unrestricted view of all the graphics. Please click the link to order.
Description: The title and meaning of this book is obvious to those who endured, suffered and ultimately felt the feeling of success and the emotion which embodied arguably the greatest season in the history of Oldham Athletic. This was created following the famous 'Pinch Me' Season, which was so out of the blue, and so unexpected that many fans and media people didn't expect what was to come the following season. Following our exploits in the 89/90 season the bookies had OAFC down at 25-1 to get promotion which was crazy given the teams we had beaten during that season and showed that even experts could be way off the mark.
At the club however, everyone was of the opinion of the need to 'get the job done' which meant turning one off cup battles into a season long campaign of success, almost as if on a one track crusade to the top flight where our talent belonged. This book is an attempt to journey through each game in this next incredible achievement and although some games seem more significant and more exciting and action packed than others, every game is dealt with and key points highlighted in the creation of this achievement.
The timing of this book thirty years after the highest point in 67 years, more than a generation later, is ironic because it coincides with the unfortunate fall into the void of non-league football. Relegation is awful for everyone associated with a club, and so is missing out on success after unprecedented achievement during a season. However, it is our hope that this book will not only rekindle great memories for fans and football people in the business of our great game but will serve as inspiration, particularly for Oldham to bounce back from what may seem desperate times and create a new Crusade back to the Promised Land of the Football League. Against the odds amazing things can happen in football and this is testimony to that maxim.